Oleo has always attached great importance to achieving performance characteristics of energy absorbers that are consistently repeatable and predictable.
Oleo has a long history of testing and simulating the performance of its gas hydraulic units for rail and industrial applications. The Hydraulic characteristics are non linear and velocity dependent. Oleo has developed proprietary mathematical algorithms for the purpose of simulating buffer performance.
The simulations are matched by a long history of testing full size units to ensure a high degree of correlation.
This simulation software has been further developed into a suite of powerful tools for analysing train collision dynamics that have the ability to simulate various collision scenarios. These tools could be applied to all rail vehicles used in passenger and freight applications.
TEST DATA OF HYDRAULIC BUFFER IMPACTED ON TEST RIG AT INCREASING VELOCITIES FROM 5KM/H TO 20KM/H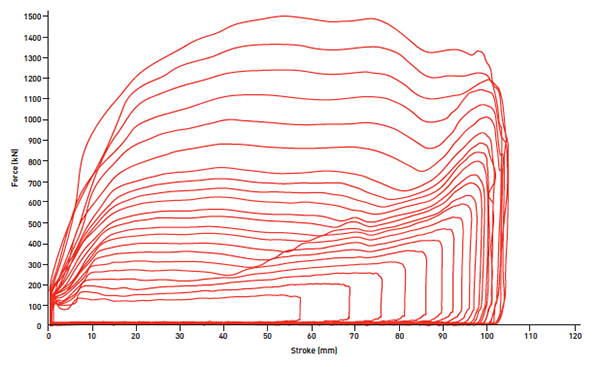 SIMULATION OF NOTIONAL HYDRAULIC BUFFER IMPACTED ON TEST RIG AT INCREASING VELOCITIES FROM 5KM/H TO 20KM/H